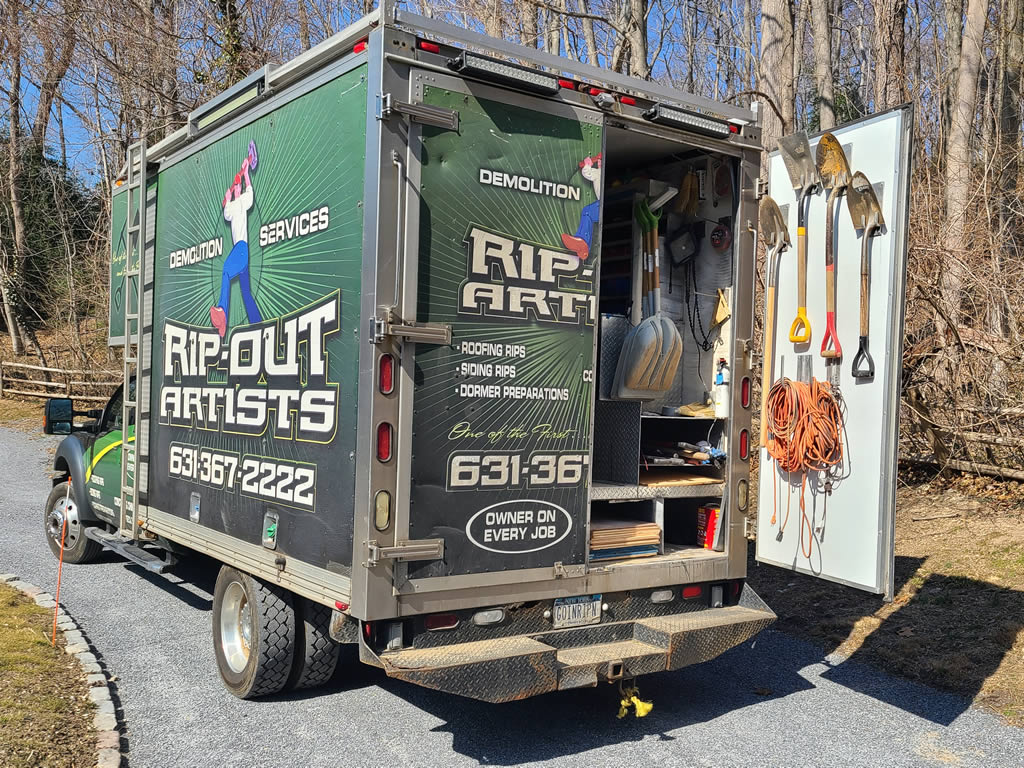 Complete Demolition Services
Licensed and Insured
Kitchen and Bath Gutting
Complete House Gutting
Concrete, Chimney, Deck, Shed, and Stoop Removals
Dormer Preparations
Carpet, Tile, and Wood Flooring Removals
Roof and Siding Rips
Office Clean-Outs and Gutting
Warehouse Clean-Outs and Gutting
For over 25 years, Rip-Out Artists has been providing complete demolition services for our commercial and residential customers.
Licensed and Insured
Owner on every job
Established 1991
Professional & Clean
Angela Schultz
Kings Park
Rob and his team were AMAZING! We needed to gut an old basement before putting the house on the market. Their level of kindness and professionalism gave my review a 5 star! I would give 6 if I could. Their skill also deserves a 6 star. They are truly magical and work peacefully together as a team. The house had no odor or dust after because of how carefully they set up the floor pads and barriers. My only regret is not tipping his team of workers more. It is VERY hard to find a good communicator who is pleasant to work with AND does amazing work. The Rip-Out Artists blew our expectations out of the water. Don't hesitate-call Rob; He is straightforward and asks the direct questions to assess what needs to be done. We called other services for this and they were hard to communicate with and did not ask many questions. From beginning to end we are very glad we chose the Rip-Out Artists.
Maria Posadas
Kitchen Corner, Babylon
Rob and his crew are the best! We have used them on multiple jobs. They are very professional, neat and leave the work site ready for the next step of the project.
Neal Kaplan
Old Westbury
Excellent work. Very neat and professional. Cares about homeowners property.
Marc B.
Plainview
I recommend this company. I hired them for a rip out of my master bathroom. They did a terrific job.
Stuart Patterson
Farmingdale
I purchased a building that needed some structural and cosmetic concrete repairs to the center wall and surrounding floor. Rip-out Artists came highly recommended and they did not disappoint. A very complete and professional estimate was provided. Job was scheduled and Mr. Colotti stuck to the promised schedule like clockwork. Communication during the job was excellent. Any complications that came up, which always seem to happen during a project of this size, were addressed and worked out flawlessly. The entire job was completed and the 7200 square foot building was broom swept clean, on time, and on budget. There was zero delay and allowed the next contractor to come in and get his work started on schedule. I highly recommend Rip-out and will be using for future demolition projects.
Adele Tongish
Melville
I was so blown away by Rob and his crew. They were like surgeons. I was so scared of the mess that would be made when my kitchen and slate flooring were ripped out, but how they put up plastic to seal off the other areas of your home as well as using blowers is amazing. Dare I say it was cleaner than before they came??? They were very fast as well.
Joe P.
Levittown
Rob and his crew are one of the best demo company is on Long Island they are clean neat and professional I use them for the smallest and largest jobs never fails he always delivers great guy great company highly recommend.
Jim M.
Sea Cliff
I have used Rob on several occasions and I could not be happier with the end result. The demo work was done in the most professional manner. When he and his crew finished, the area that had been demoed and the surrounding areas were left spotless. I highly recommend them for all of your removal needs. I'm not easily impressed but they impressed me.
Paul S.
Sea Cliff
Rob and crew just finished demoing a large master bathroom for me. I have absolutely nothing negative to say. Their price was very good, their attitude was phenomenal and they were incredibly, unbelievably clean and neat. They took the time to prep my floors and my stairs, they put plastic up and used air filtration machinery. I think my house was actually cleaner when they finished then it was before they started! I have been in construction for over 30 years and I have hired many different contractors and sub-contractors and these guys are right up there with the best of the best. I HIGHLY recommend them.
Craig T.
Bethpage
Clean and fast. They did a great job on my garage. I am going to use them again soon.
Phil M.
PRM Custom Builders, Syosset
I am owner/operator of PRM Custom Builders. I have used Rob Rip-Out on numerous jobs and am always happy with their work. They are clean and fast and professional. I would never consider using any other demolition company.
Samantha S.
Deer Park
My dad has been flipping homes since he retired from the police force in 2005. There is no other demo crew that he would have wanted on his job site, other than the Rip-Out Artists! Great Crew, Great trucks, Great work!
Richard D.
Smithtown
When our mom passed, we needed to have her home completely cleaned out with some carpeting and sheetrock removed. The Rip-Out Artists lived up to their name while showing utmost respect and understanding during this difficult time. Top notch crew, stellar job!
Will S.
Northport
This company is perfectly named -- Rob and his guys are 100% artists and you can be sure it will be ripped out if you want it gone!
Will S. (part II)
Northport
As Rob will explain, it is all about the setup. On this part of the job the crew takes unbelievable attention to detail. First molding gets carefully removed, then sweep-vacuum-tape edges with painters tape. Then, before any really dirty stuff gets going the floors are protected and the work area is isolated -- every inch of the floor (including stair treads) covered with at least one layer of Masonite, with all seams of the floor duct taped; plastic sheeting and zip-walls, industrial filters, and painters tape to seal every crack. Getting ready for demo takes time but NOBODY else does it like this...and you will appreciate it!
Location:
484 Wolf Hill Road, Dix Hills, NY 11746
Email:
ripoutartistsinc@gmail.com
Hours:
6 AM to 9 PM, Everyday